Landscape of Enterprises in SEWA
SEWA aims to support the broad aim of economic empowerment by addressing the practical need of women for more income-generating work. Members of SEWA have done this time and again by women of a trade group coming together to register for-profit enterprises, where Women are Owners, Women are Managers, and Women are Beneficiaries. We call these collective social enterprises or सामूहिक उद्योग.

Every collective social enterprise within SEWA is a for-profit entity that aspires to become a sustainable business. Although such an enterprise must make profits, its main purpose is not profit maximisation but attaining social impact, which is economic empowerment.
There are over 153 enterprises owned, managed and run by 4.8 lakh women in the SEWA ecosystem. These enterprises can be classified into the following categories:
About Us
SEWA Enterprise Support System (ESS) is a branch of the SEWA movement, with the purpose of incubating and accelerating more women-run collective enterprises. The focus group of the ESS is women workers in the informal economy, both urban and rural, and their micro and collective enterprises. Since most of our members have never been business owners themselves, SEWA supports in organising groups in a community, building their operational capacities and then registering collective businesses.
We keep the following principles as a guide:
1. Our members (and more generally, women workers engaged in the informal economy) are at the centre of all our work: they are the owners, managers and decision-makers.
2. Each enterprise should become (or should be on a path towards becoming) a self-sustaining business through our involvement.
3. The primary aim is not profit maximisation but balancing social impact.
4. The impact can be increased by either upscaling businesses or replicating the same/similar business model(s) in other geographies.
SEWA at present has two Enterprise Support Systems:
What We Do
SEWA ESS has been designed as a holistic Enterprise Support System, which works with enterprises across sectors, across geographies and across any stage of business growth.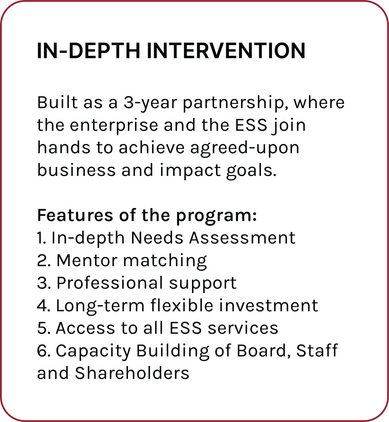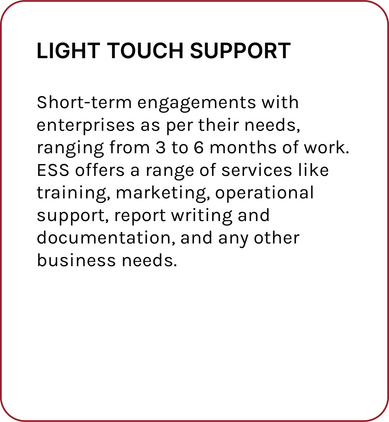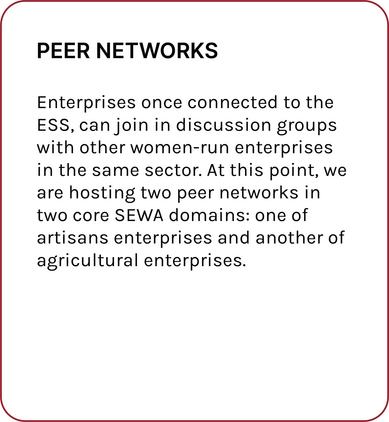 Enterprises in Focus
Cohort 2020 - 2023
Our Marketplace
SEWA Anubandh aims to enable grassroots women micro-entrepreneurs and women-led social enterprises to connect directly with customers, anywhere in the world, for marketing their products and services at a fair price.